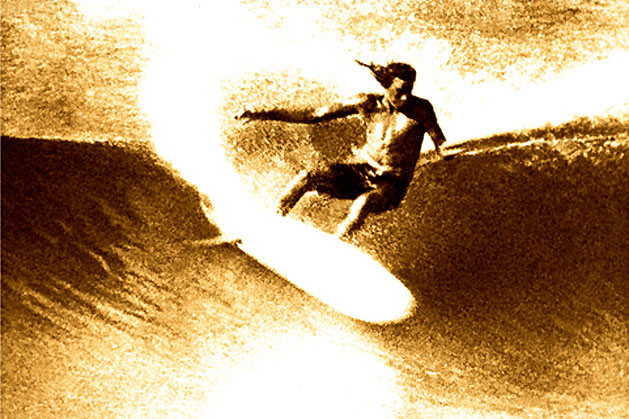 Photo Credit: Dick Hoole - 'MP Cutback'
Opened officially on Saturday 26 June 2021 at Coolangatta Sands Hotel, the Legends of the Surf exhibition honoured the rich historical and cultural surfing heritage of the Gold Coast and the icons of our local surf community behind it.
Sales from Legends of the Surf has collectively raised $7,184.40 to support the important coastal conservation work of Surfrider Foundation GC and Gold Coast World Surf Reserve, and the empowering mental health education and stigma reduction work of LIVIN.

The opening event was MC'd by surfing legend Andrew McKinnon and featured
an opening address by World Champion Wayne Rabbit Bartholomew
a series of 15 pyrographic portraits of surf legends with their permission auctioned for charity;
hair-raising performance by local band Scrappz;
never-before-seen footage of '75 Burleigh swell from fathers of surf photography Dick Hoole and Steve Core;
footage from Lachlan McKinnon aka Mr.Clips;
a raffle of a flying fish surfboard donated by The Surfboard Warehouse customised by Emily, and a softboard signed by Mick Fanning donated by The Surfboard Agency
Legends of the Surf exhibited from Saturday 26 June - Wednesday 7 July 2021 at The Art Space on 19 McLean Street, Coolangatta QLD.
Media Links
Channel Seven 'Creek to Coast' (17/07/21)
https://creektocoast.com.au/legends-of-the-surf/
Ocean Road Magazine
https://www.oceanroadmagazine.com.au/legends-of-the-surf-art-fundraiser-event/
https://www.oceanroadmagazine.com.au/follow-up-on-saturday-26-junes-legends-of-the-surf-opening-night-at-coolangatta-sands-hotel/
Blank Gold Coast Press
https://blankgc.com.au/legends-of-the-surf-exhibition/
Pacific Longboarder Magazine
https://www.pacificlongboarder.com/news/What-went-down-at-the-Legends-of-Surf-opening/